Connect hybrid teams with Surface Hub 2S
Surface Hub 2S enables your teams to collaborate no matter where they work from, helping dissolve the boundaries between remote and in-office work. You'll help keep people, ideas, and data safe and secure.
Surface Hub 2S helps you foster inclusivity and empower employees to connect, co-create, and innovate.
Overcome hybrid workplace challenges
Connect. Make meetings inclusive and collaborative by giving attendees tools that help them participate more effectively, wherever they are.

Co-create and collaborate. Share ideas and enable creation to facilitate innovation.

Stay productive. Employees want to co-author and share files with colleagues and customers.

Stay secure. Shared data and information need to be protected.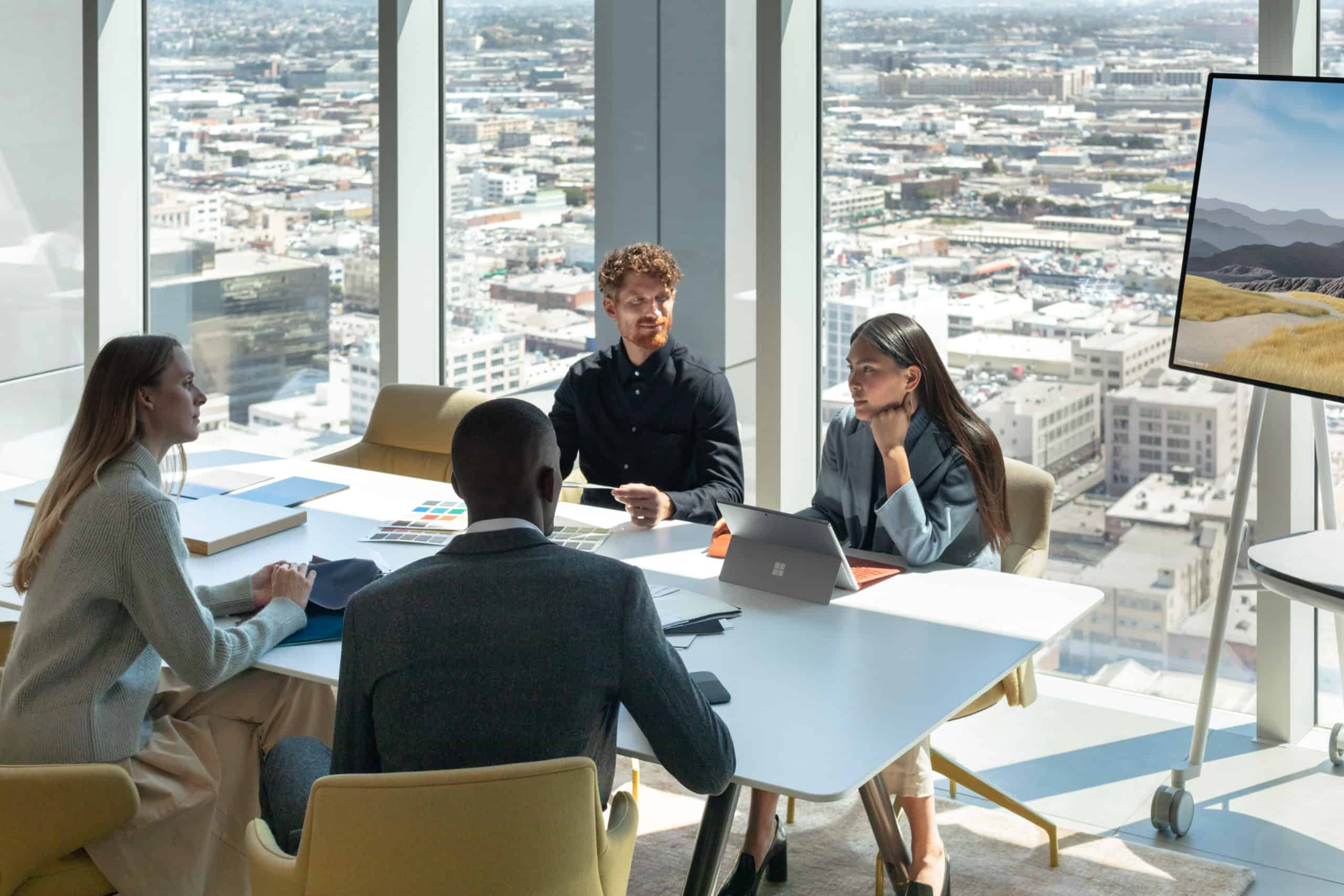 Surface Hub 2S with Microsoft Teams
Surface Hub 2S is a complete Windows 11 Pro or Windows 11 Enterprise communication & collaboration platform with Microsoft Teams, Whiteboard & Office 365. It's made for groups that want to connect, co-create, and produce with others regardless of their location.
Surface Hub 2S brings together the best of Microsoft collaboration tools – all backed by the intelligent cloud.
Thin and sleek, Surface Hub 2S fits well into any workspace, from meeting rooms to open spaces, so you can use Microsoft Hub 2S with Teams to collaborate anywhere. It's also lightweight and highly portable with its optional mobile stand optional APC battery.
AVI-SPL is an experienced Microsoft Managed Partner and Microsoft Modern Work Solutions partner.
As a Microsoft Managed Partner and Surface Hub Partner of the Year, AVI-SPL is an experienced digital services provider that can help you integrate the Surface Hub's capabilities into your meeting environment.
AVI-SPL offers local, regional, and global solutions and support for Microsoft Teams, Teams Rooms, and Surface devices.
Our certified specialists in design, integration, multi-national implementations and 24/7 help desk support will bring the power of Microsoft Teams to your organization.
You want Teams to be a reliable asset that has a measurable, positive impact on your operations. That takes planning well before deployment, and we can help.
AVI-SPL will understand your processes and culture, evaluate your technology, and then determine the infrastructure needed to secure and support your preferred experience.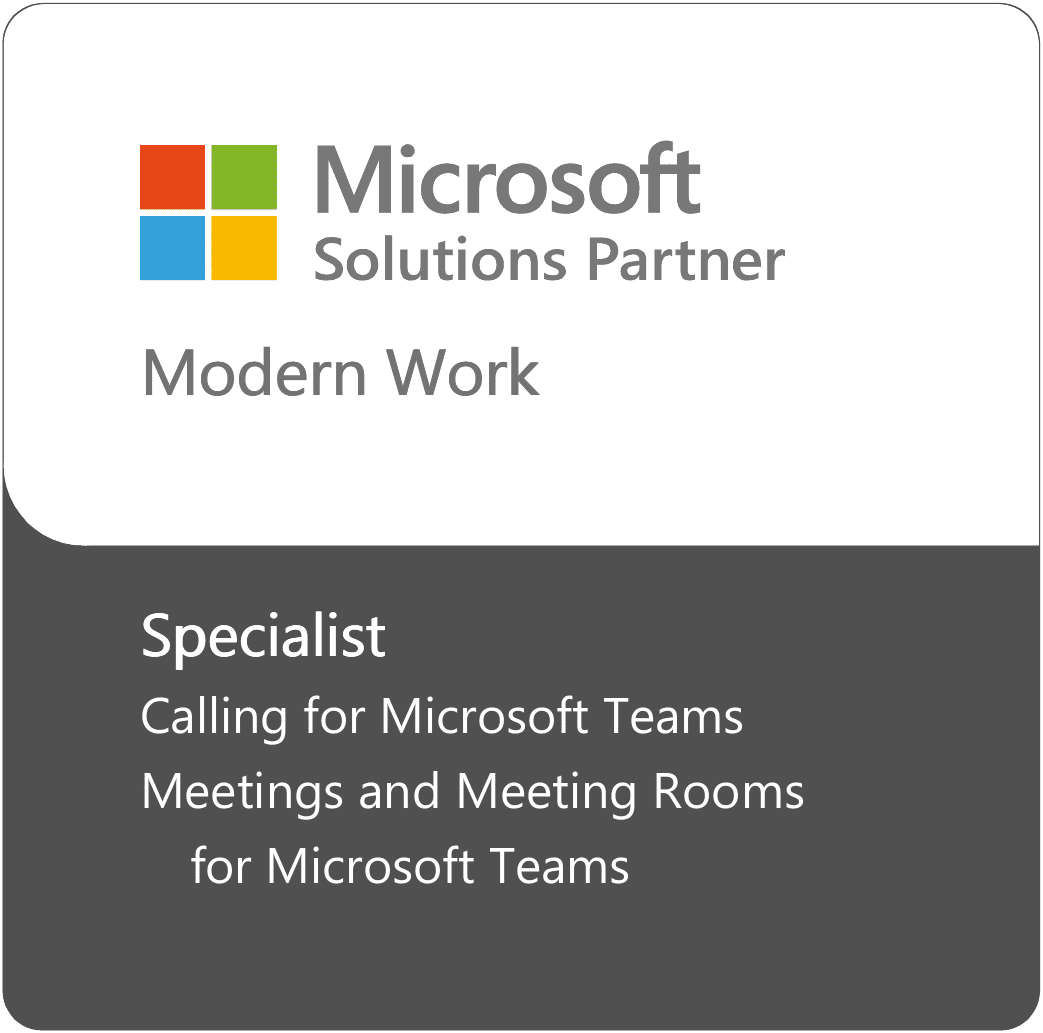 Check out the solution guide "Microsoft Surface Hub 2S in the Hybrid Workplace."
Explore how to make virtual meetings more inclusive and collaborative for hybrid teams.
Get the latest insights in Microsoft's eBook "Microsoft Surface Hub 2S in the Hybrid Workplace." Microsoft shares how to transcend physical spaces, dissolving the boundaries between in-office, remote, and "anywhere office" workers.
Explore how Surface Hub 2S can help bridge the digital and physical divide in your hybrid environment. Topics include how to protect people's ideas, increase flexibility, and more.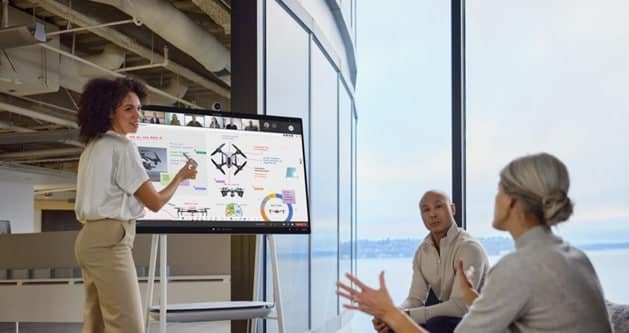 Cultivate real-time collaboration with Microsoft Whiteboard and intelligent content capture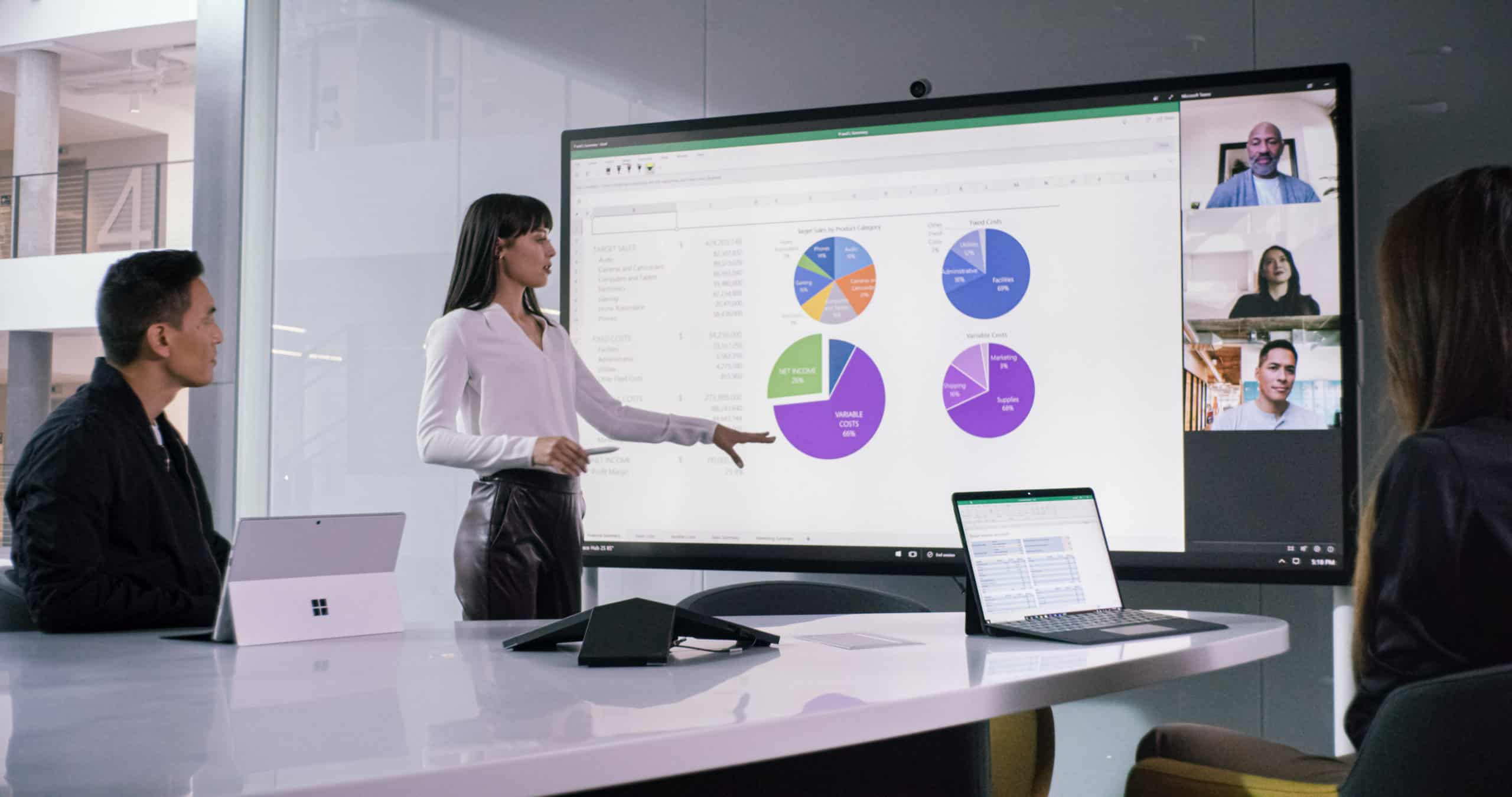 Surface Hub 2S offers a great meeting experience because of its Smart Camera powered by AI, 8-band microphone, and integrated Microsoft Teams.
The camera dynamically adjusts the video feed for remote attendees, re-framing the view when someone leaves, when more people come in, or when a presenter interacts with content on the display. Remote team members get a more inclusive, dynamic view of in-room interactions. And, people in the room can move freely, knowing they'll be captured on camera.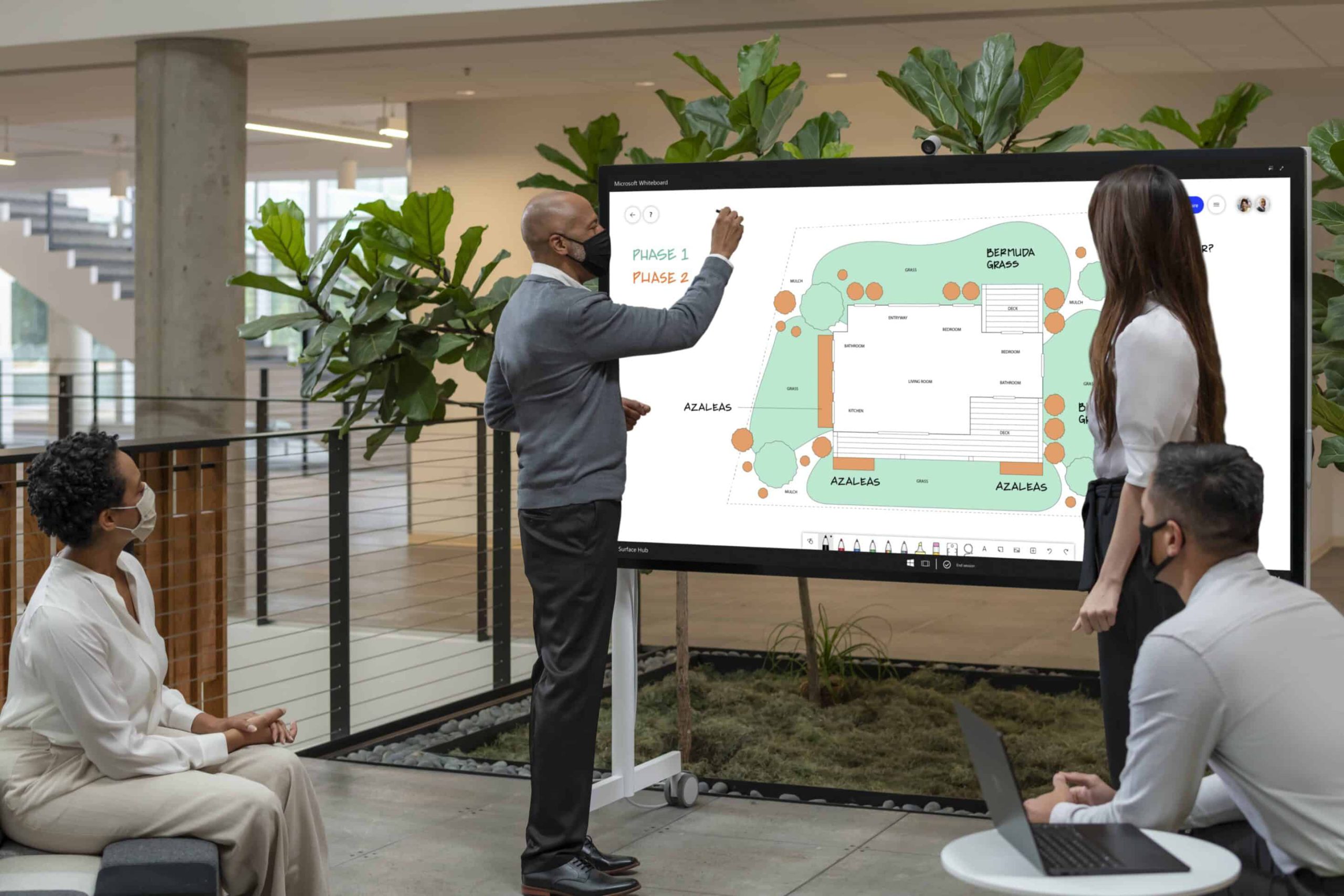 Microsoft is added an 85" version to the Surface Hub family. This larger device brings the same amazing Surface Hub 2S experience to spaces requiring a larger screen such as conference rooms, board rooms, or larger huddle spaces. The 16:9 display is similar to the original Surface Hub,  and Windows 10 Team is installed by default.
Designed for group collaboration.
Consistent Surface Hub 2S experience.
Integrates with existing and new A/V systems.
Three-way loudspeaker system
Surface Hub 2S 85″ supports the two pens that ship with the device
Microsoft Surface Hub 2S resources
Connect In-Office and Remote Teams with Microsoft Surface Hub 2S
Read how the Microsoft Surface Hub 2S connects in-office and remote teams. You can create a consistent collaboration experience in office and virtual environments.
4 Ways to Engage Meeting Participants With the Microsoft Surface Hub 2S
Discover how the MicrosoftSurface Hub 2S all-in-one-device can promote engagement and collaboration with on-site and remote employees.
Microsoft Surface Hub 2S Group Collaboration FAQ
Explore three top FAQs answers that review how the Microsoft Surface Hub 2S enables group collaboration among on-site and remote team members.
A partner to realize your hybrid workplace goals
As a Microsoft Managed Partner and Surface Hub Partner of the Year, AVI-SPL is an experienced digital services provider that can help you integrate the Surface Hub's capabilities into your environment.
We support organizations globally to strategize, design, deploy, and support their Microsoft solutions and ensure business objectives are achieved.
Key Surface Hub 2S service offerings:
Surface Hub 2S on-site demo pool for on-site evaluations
Hardware, provisioning, configuration services
Global deployments
Project management
24/7 service contracts
Surface Hub integration for larger collaboration spaces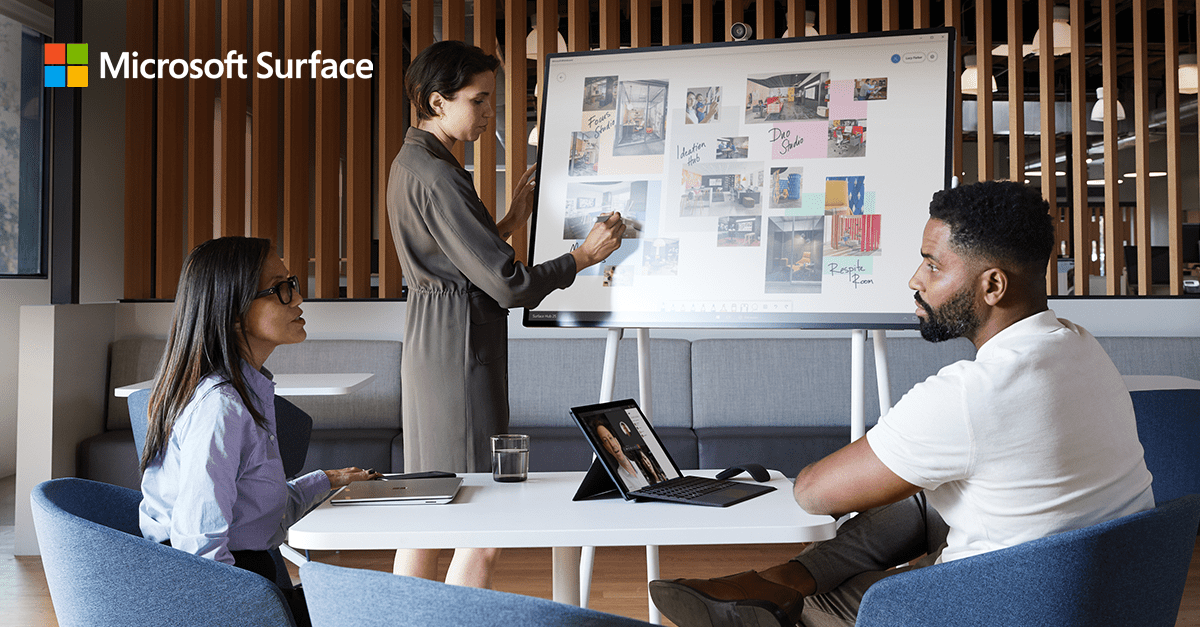 Subscribe to our newsletter