The global workplace technology and services provider was recognized for its 'collaboration' efforts with Jones Lang LaSalle
TAMPA, Fla. – June 4, 2018 –  AVI-SPL, a global service provider specializing in communications and collaboration technology, was awarded Jones Lang LaSalle's (JLL) 2018 Supplier of Distinction Award (SODA) in the Collaboration category.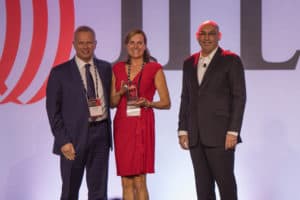 JLL, the renowned commercial real estate firm and workplace strategy leader, created its annual SODA program to recognize its partners for helping to deliver the highest caliber of service, value and innovation to its clients. AVI-SPL is a member of the JLL Workplace Council and is the only AV and UC technology provider in JLL's Synergy program that is designed to deliver real estate improvements with optimized costs and timelines. For the 2018 SODA award, AVI-SPL was recognized for its extensive partnership during a prominent healthcare facility project in Washington, DC. Working together, AVI-SPL and JLL overcame a challenging project timeframe to create a world-class, technology-dense Innovation Center that connects the healthcare provider easily and securely to senior government and industry officials. The efficiency realized by the alignment of JLL and AVI-SPL created value for the healthcare customer by accelerating the launch of their new center.
"AVI-SPL was a great partner and played a vital role to the success of a very complex and critical project for a long-standing client," said JLL Project Manager David Gifford. "Due to a very complex scope and extremely tight schedule, AVI-SPL's team was challenged throughout the design and construction phases. Their 'A Team' met the challenges that were presented to them every step of the way, and they were committed to delivering exceptional service and solutions to ensure a successful project for JLL and the client."
As a strategic partner to JLL and the client, AVI-SPL adopted a collaborative design approach to expertly hone in on a comprehensive AV technology solution to meet the project objectives. The new Innovation Center includes state of the art interactive displays, a mock Operations Center, vignettes for real-clinic or home healthcare settings and walk-through demonstration spaces. Adjoining spaces include a boardroom, briefing rooms, as well as a variety of conference spaces. The result is a flagship caliber facility that allows high-impact, interactive demonstrations regarding industry concerns and client services.
"Winning the JLL SODA award is a significant milestone in our partnership and shows the incredible things we can accomplish together to enhance the future of work, education, and training by building innovation and ingenuity into every project," said Rebecca Meier, AVI-SPL's national strategic alliance director for JLL. "We look forward to building our relationship with JLL as we work together to bring the future to now."
About AVI-SPL
AVI-SPL is a global business partner providing AV and UC technology solutions and award-winning managed services to create vibrant, collaborative experiences and transformative innovations. With the industry's most certified experts, AVI-SPL's highly-trained team works hand-in-hand with organizations worldwide to strategize, design, deploy, manage and support AV and UC solutions that improve business outcomes through enhanced employee and customer experiences. Visit AVISPL.com to learn more, or connect with AVI-SPL on Twitter and LinkedIn.